Chlorhexidine Manufacturing Base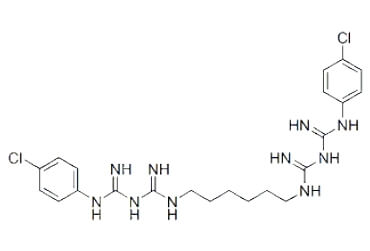 CAS No.
55-56-1
Chemical Name:
Chlorhexidine
Synonyms
fimeil;hexadol;soretol;nolvasan;sterilon;rotersept;
tubulicid;chlorhexidin;CHLORHEXIDINE;CHLOROHEXIDINE
CBNumber:
CB4732251
Molecular Formula:
C22H30Cl2N10
Formula Weight:
505.45
MOL File:
55-56-1.mol
Applications of Chlorhexidine Base
Chlorhexidine base for antiseptics and disinfectants
Its high effectiveness and outstanding overall compatibility makes it suitable for use in both human and animal antiseptics. The most soluble CHD salt is CHD digluconate, and this property makes it an excellent choice for pharmaceutical formulation.
In short, CHD formulations are used for:
surgical scrubs
treatment of wounds
disinfectant for surfaces and textiles
Ourproduct, is the gold standard for antiseptics and disinfectants in the pharmaceutical industry.
Chlorhexidine base is a disinfectant and topical anti-infective agent used also as mouthwash to prevent oral plaque.
The physiologic effect of chlorhexidine is by means of Decreased Cell Wall Integrity.
Chlorhexidine is a biguanide compound used as an antiseptic agent with topical antibacterial activity. Chlorhexidine is positively charged and reacts with the negatively charged microbial cell surface, thereby destroying the integrity of the cell membrane. Subsequently, chlorhexidine penetrates the cell and causes leakage of intracellular components leading to cell death. Since gram positive bacteria are more negatively charged, they are more sensitive to this agent.